IKARI Water Treatment for Cooling Tower
Cooling Tower is an essential part of process operations for many industries, office tower and public buildings.
The safe and efficient running of Cooling Tower system relies on good monitoring and management practices. Poor management of Cooling Tower System may cause bacteria growth, run-down and increase maintenance cost of Cooling Tower System.
IKARI has the expertise to treat each and every Cooling Tower System, provided the property owner has the technical specification based on the physical and operational parameters of the Cooling Tower system for our Service Consultant.
IKARI Specialist will develop a correct program, calculate measure, monitor and ensure the right amount of biocide/ fungicide provided is sufficient to control the algae in your Cooling Tower.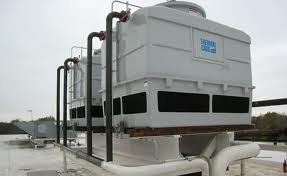 On a quarterly or half yearly basis, IKARI specialist will provide you a comprehensive detail analysis of the make- up water and provide you a cost effective treatment and peace of mind.
Our specialist will continue to monitor the chemical levels of the water within the cooling tower system to ensure operations levels are maintained.
We offer a free site survey to assess the extent of any Cooling Tower System, with advice and recommendation from our in-house Professional Consultant on how to provide the most appropriate solution to your needs.