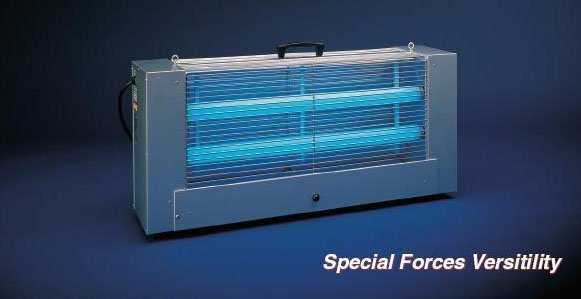 Light weight, convenient carrying handle, and multi-purpose design make the Guerilla™ ideal for strategic surveillance maneuvers or surgical flywar.
It's not as powerful as our larger units; but the open top design (and mar-proof feet), allow placement down low, on the top floor, significantly increasing its' effectiveness against flies. It can be wall-mounted about waist high (retaining effectiveness while making it easier to service) or ceiling hung, if need be.
Features two OsramSylvana F20T12/350BL (20 watt) insect attractant lamps (Replace annually for continued performance).
Standard version beautifully finished in anodized aluminum. Guard door (double nickel-chromed) swings up for easy access to grid, reflective surface, and lamp for periodic cleaning and lamp replacement. For Stainless Steel version, order# 220SS.
Spring-locked catch tray is secure; yet, easily removed for emptying.
Eyebolts included for ceiling hung installation. Six foot, 3-wire grounded power cord. Standard 115v/60Hz. Interlock switch automatically shuts off trap when guard door is opened.
Dimensions: 29 1/8" x 13 3/4" x 7 3/4"
Weight: 19 ibs, Ship Wt: 24 ibs.
Call us now at +91 674 235 1577 or email us at admin@ikariesonapadma.com to find out more.