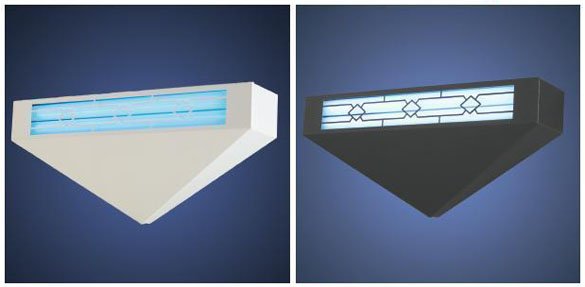 The Gilbert 2002GT Flying Venus™ provides the samestandard setting, flycatching ability of the 2000GT. And, the deeper design holds a large glueboard, flat.
Gilbert Flying Venus™ wall sconces are serious integrated pest management tools. While not as powerful as our larger traps, these new designs have significantly narrowed that gap, bolstering the overall fly management system.
2002GT features two 20 watt insect attractant lamps (Osram Sylvania #F20T12/350BL). Replace annually.
Dimensions: 24 3/4" Wide x 11 1/4" High.

Depth slopes from 5 5/8" (at top) to 1 7/16" (at bottom point).

Mount bottom point at least 6'4" high in halls, corridors, walks, passageways, or isles (See: www.gilbertinc.com/ada.htm).
Textured Vinyl Weight = 8.1 Ibs, Ship Wt: 11 Ibs.

Polished / Antique Brass Weight = 10.9 Ibs, Ship Wt: 14 Ibs.
2002GT FLYING VENUS™ CHOICES: Choose decorative power cord (6 ft, 115v grounded) or hard-wire version. We highly recommend ordering the optional hard-wire version for the aesthetic, cordless look. Universal knockouts and keyhole mounting slots provided on all versions.
All Flying Venus™ flytrap are available in four beautiful finishes: Polished Brass, Antique Brass, Textured Black or Textured White, vinyl-coated aluminum.
Call us now at +91 674 235 1577 or email us at admin@ikariesonapadma.com to find out more.